Philip Everett

: Electric Lapharp and effects, percussion, and clarinet
Philip began music study at the age of 9 on clarinet, quickly moving to drums,  Bartok, Debussy, and Gershwin, as well as New Orleans style 2nd line marches.
Armed with an array of teachings, Philip became the leader of various groups over the years:  His first group Ice, in 1967, was a psychedelic R & B ensemble that performed music in the style of Otis Redding and Jimi Hendrix.  The band toured the Midwest in a beat up, old, black city bus,  and opened for bands like Canned Heat and Sweetwater, until the group members went their separate ways in 1972, some of them going on to play with Peter Frampton, Tommy Bolin, Cannonball Adderly, Luther Tucker, members of the Eagles, and for other lesser known artists in the one minute of fame category.
Undaunted by the end of his first group, Philip pushed ahead and created Arrival in 1974. This group was significantly different then his early psychedelic R & B days. This progressive rock band featured the electronics of David Toby & bassist Ray Schaeffer, with elements of hard rock, folk, world music, electronic improvisation & composition. They found themselves almost signed to several major record labels but the music was too difficult for the music corporations to pigeonhole.
In 1985 he formed Sound Oasis, a six piece jazz group which performed at the Vintage Inn in West Oakland for a number of years. After numerous other projects, Phillip eventually started making a living with various country & western bands, performing at honky-tonk bar rooms up & down the delta between Richmond & Stockton California until 2000. Although he was making a living, his calling was not being fulfilled, and bolstered by his experience from his earlier development, he concluded that discovering new music was true to his heart. He decided to play only creative music in the direction of sonic exploration.  His current projects include Tri-Cornered Tent Show, an improvisation group that explores music inspired by H.P. Lovecraft, various group concepts with saxophonist Rent Romus, including the Abstractions, and writing experimental country music for his project "White Buffalo, Midwestern Gothic".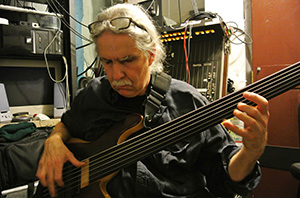 Ray Schaeffer:  Bass guitars and effects, audio engineering, roadie, Instrument repair, Chief wire thug.
After studying music theory and upright bass in school, Ray worked in a diverse array of musical situations from full classical orchestra to Top 40 night club bands, folk rock bands, and experimental rock/improv groups going back to the early 70's.
Current live projects are Tri-Cornered Tent Show, Lords of Outland, and the District SF band.  Ray is also tracking and mixing on the Nymphya  project as well as assisting with live sound duties at the yearly Outsound Music festival.
Ray recorded, mixed and mastered all the music for Tri-Cornered Tent Show. 2 CD's for the Abstractions and most of the music for Lords Of Outland (since about 2005), as well as assisting Philip Everett with  construction and development of the FX Coffin/electronics setup.
Anthony started playing at a very early age, banging on his mother's pots and pans with wood stirring spoons. He got his first drum set in his teens.
Mostly a self taught musician, Anthony played in various garage bands in the 1960's, and after moving to San Francisco in the 70's, performed and recorded with a number of bands in multiple genres.  His influences are, Elvin Jones, Art Blakey,Ginger Baker, John Bonham, Mitch Mitchell, and Sun Ra.
Valentina O: Vocals and vocal effects
Valentina O is an eclectic and multifaceted vocalist who has not only appeared throughout the United States as an opera singer, actor and performer for companies such as San Francisco Opera and New York City Opera, but whose voice has also been heard in numerous soundtracks for television, film and commercials for Time/Life Warner, IMAX, and Garfield, as well as on multiple CD projects for recording artists, and on the Tonight Show with Jay Leno.
Valentina started her musical odyssey in Ohio, first listening to country music on her Bakelite bedside radio, and acting out all the parts to the original Broadway cast recording of West Side Story in her bedroom, until she discovered Jim Morrison and the Doors late one night on the same Bakelite radio.  From then on, she was determined to be a rock star, and starting playing guitar, writing songs, and singing in bands. After a four year distraction of a Mechanical Engineering degree from Temple University, Valentina moved to San Francisco and attended music school at San Francisco State University, where she began to develop a strange love for the obtuse world of opera singing.
Upon finishing school, Valentina became the founding member of,  performer, and award winning arranger for the San Francisco-based acapella cabaret group Screaming Divas, winning the award for best vocal arrangement for her acapella take on Ravel's Bolero in 1993, as well as top honors in the Beyond Category for the SF Weekly in San Francisco in 1994.  It was during this period that Valentina began experimenting with non-traditional vocal sounds, and realized one of her life long dreams of performing at the Fillmore Auditorium, as well as performing on MTV and the Tonight Show with Jay Leno.  From there she launched her opera career, which brought her to the concert halls of the San Francisco Symphony and San Francisco Opera, to New York City Opera.
Bitten with the composing and arranging bug yet again, Valentina recently wrote, arranged, and recorded her World Peace Anthem entitled Peace on Earth with Viktor on piano, performing it live at the Seattle Center September 11, 2011 on a simulcast webcast to over 50,000 listeners, donating 40% of all proceeds of sales to global peace organizations.  She is currently at work producing, writing, and arranging her original, electronic music project Nymphya, and continues to champion contemporary classical, opera, theater performance, and avante garde music.