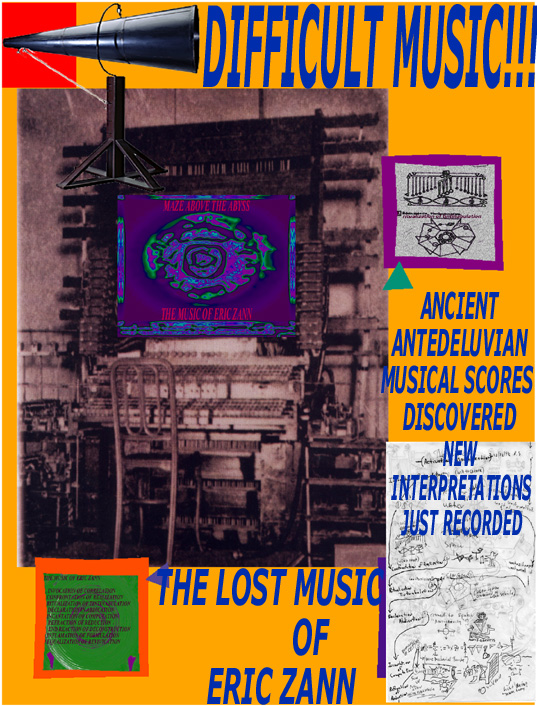 <a
The First CD from Tri-Cornered Tent Show. This project was started in the late 70's, added to and completed/mixed down in 2000.
The musical journey began with initial tracks being recorded using the ancient antediluvian technology of electronics from the 70's. Though methodical deciphering of the Lovcraft short story "The music of Eric Zann", other related stories expanded upon Lovecraft's Greater Cthulu Mythos they began recording free improvisation and orchestrated sound sculpture over those 25 years to create the projects now available.
Philip Everett: Drum set, Percussion, Mallets & Woodblocks

Ray Schaeffer: Electric Basses, Turkish Zaz, Bowed Mandolin, Midi Guitar, Drum Machine,  Audio Engineering. Mixdown, Mastering.

David Toby: Honer Clavinet, Honer Melodica, Hammond Organ, Chamberlin tapeloop keyboard,  Drumset, Percussion.
Steven Toby: Audio Engineering.
______________________________________________________________________
REVIEWS:
"70's era electro-technology taken to its refined limits"
– A. Fremont KFJC FM
"MAZE ABOVE THE ABYSS is a fantastic voyage through musical territories so varied and captivating, some more explored than others, but all subjective. It's modern instrumental music that covers Progressive, Experimentation, Improvisation, Avant garde, World folk, Noise and more. Already, the monumental theme of the opening is a trip in itself. Twelve and 1/2 minutes that are introduced by the calm melody of the Hammond organ by Toby. A torrent that flows with a sound quite special in the style of the great cosmic groups of the 70's to disembark into an exquisite instrumental paraphanalia, led by a percussive turbulence that appeared to be more favored with experimental improvisation than with rock. All is a cosmic adventure of the vangaurd without limits that hold it."
– Paul Puleston, Nucleus (The Site of the Progressive Music) (Mar 01, 2005)
______________________________________________________________________
href="https://tricorneredtentshow.com/wp-content/uploads/2013/04/LINERNOTES.12.jpg">