Edgetone Records 25th Anniversary Showcase Series …
Performances celebrating twenty five years of independent music from Edgetone Records
Scott R. Looney – solo piano
T.D. Skatchit (Tom Nunn, David Michalak) – original inventions
C.O.M.A. (California Outside Music Associates)
John Vaughn – saxophones / Dax Compsie – drums
Tri-Cornered Tent Show
Philip Everett – Electric Lapharp and effects, percussion, and clarinet, Ray Schaeffer: Bass guitars and effects, Anthony Flores: Drums, percussion, and handmade noisy things, Valentina O: Vocals and vocal effects
Scott R. Looney has recorded and/or performed with Oliver Lake, Frank Gratkowski, Wolfgang Fuchs, Jon Raskin (of the ROVA Saxophone Quartet), Joelle Leandre, Henry Kaiser, Gianni Gebbia, Gino Robair, Joe Morris,, and Paul Smoker, to name a few. He has played in numerous local and international festivals such as the Ulrichsberger Kaleidophon, San Francisco Electronic Music Festival, Olympia Experimental Festival, Big Sur Experimental Music Fest, and the Line Space Line Festival in LA.
"This guy deserves your attention. He's got power, emotional heft, but also an abundance of musical intelligence and subtlety." – Ken Waxman, Cadence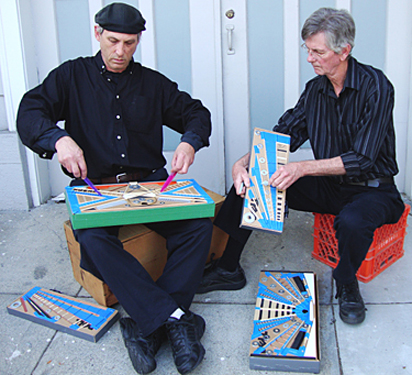 T.D. Skatchit & Company is a duo featuring Tom Nunn & David Michalak playing Skatchboxes. As the story goes, one day while on a visit to his cousin's workshop, David picked up the combs and began to play the Skatchbox. Thomas sat in amazement at this first performance on his new invention. And so T.D. Skatchit was formed to spread the Skatch throughout the land performing with other traveling minstrels at carnivals & sideshows or wherever people would listen.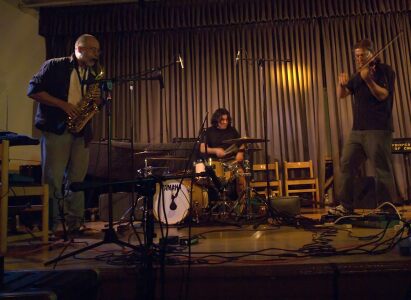 "C.O.M.A. does with jazz what Kronos Quartet does with chamber music: they update and expand the tradition" – Greggory Moore, Long Beach Culture
C.O.M.A. The California Outside Music Associates, is a collective of improvising musicians from central California dedicated to music of the moment. The collective performs throughout California in settings ranging from the duo to an octet, with dancers, visual artists and poets.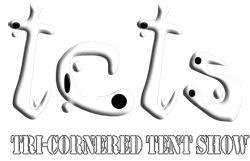 In the early 20th century "tent shows" created multiple stages of interest vying simultaneously for attention. They could be selling you medicine, salvation, entertainment or war. While Drawing on combined influences in R&B/dance, classical, multi cultural folk, progressive rock, 20th century avant garde, free jazz and heavy metal, Tri-Cornered Tent Show pushes the envelope of melodic groove and arrhythmic improvisation, sometimes evoking images of 70's Italian horror pictures and other outr.e forms of cinema.


Edgetone Records was founded by musician/producer, Rent Romus. The label took shape in 1991 to support his group's original jazz recordings. After being on a long hiatus Rent re-opened Edgetone in January 2000 and expanded it to support avant-garde and experimental music and recordings crossing the genre boundaries specifically for D.I.Y. (do it yourself) artists looking for a ground base and community label identity. In 2016 the label now carries over 180 releases from artists across the United States and beyond.
Cost: $10-$20 sliding scale