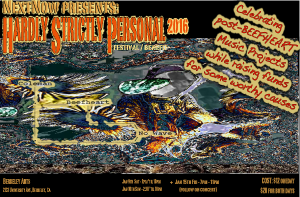 https://www.facebook.com/events/1521365111516493/
HSP2016 is a celebration of Post-Beefheart Music to benefit some very worthy causes : Earthjustice, Homeless Action Center, Bayarea Anti-Trafficking Coalition.
Hosted by https://www.facebook.com/nextnowSeries/
Berkeley Arts, 2133 University Ave, Berkeley, California 94704
This is the new and experimental music comunity coming together to celebrate the creative fire of Post-Beefheart era music projects.
This year we will include some projects which look at the influence of Ornette Coleman on Beefheart's Music and both of their influences on the No Wave movement…Informative, unconventional enjoyable sounds..
we have 27 very cool projects represented this year…
including:
—Saturday 9.Jan.2016
02:00:00 PM RTD3
02:30:00 PM Tri-Cornered Tent Show
03:30:00 PM Bill Noertker/Mark Oi duo
04:00:00 PM New False Gods
05:00:00 PM Ross Hammond w/ Gino Robair
05:30:00 PM Ze Bib!
06:00:00 PM T.D.Skatchit & Guest
06:30:00 PM Joshua Allen
07:30:00 PM Life's Blood Ensemble
08:30:00 PM Ear Spray
09:00:00 PM Pachuco Chadaver
—Sunday 10.jan.2016
03:00:00 PM Ron Heglen and Katt Atchley Duo
04:00:00 PM Biggi Vinkeloe Enselmble
05:00:00 PM Trois Chapeaux
06:00:00 PM Bridge of Crows w/guests
06:30:00 PM Owen Maercks/Henry Kaiser Duo
07:00:00 PM Jakob Pek Project
07:30:00 PM ebolabuddha(extensis)
08:00:00 PM Ruminations
09:00:00 PM INSTAGON
–Friday 15.jan.2016 (follow on concert)
07:00:00 PM Crow Crash Radio
07:30:00 PM Qualia
08:00:00 PM Eric Glick Riemann
08:30:00 PM Feral Luggage/Cartoon Justice
09:00:00 PM Alphastare
09:30:00 PM ebolabuddha
10:00:00 PM Filthmilk