Tri-Cornered Tent Show and Pachuco Cadaver share the bill at Winters Tavern to present a truly creative and unusual night of musical excursions.
TRI-CORNERED TENT SHOW:
In the early 20th century "tent shows" created multiple stages of interest vying simultaneously for attention. They could be selling you medicine, salvation, politics, entertainment or war. While drawing on combined influences in R&B/dance, classical, multi-cultural folk, progressive rock, 20th century avant garde, free jazz and heavy metal, TRI-CORNERED TENT SHOW pushes the envelope of melodic groove and arrhythmic improvisation, sometimes evoking images of 70's Italian horror pictures and other outre forms of cinema.
Philip Everett: Electric Lapharp, synth, X-larinet
Ray Schaeffer: Bass guitars
Anthony Flores: Drums, percussion
Valentina O: Vocals and vocal FX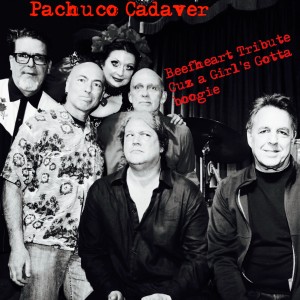 PACHUCO CADAVER:
Pachuco Cadaver is dedicated to paying tribute to the musical genius of Captain Beefheart and the Magic Band. We are not a Beefheart cover band; nobody could realistically be expected to replicate the sound and texture of the Magic Band except the Magic Band, so we have created a horn-heavy ensemble with a decidedly unique way of arranging some classic Beefheart tunes, as if someone like Maceo Parker had been in charge.
Creating new arrangements and instrumentation is a way to introduce the Magic Band and Captain Beefheart to a new generation of live music fans who may not ever have heard of them.
Part of the fun of getting this ensemble together is playing some of the challenging music that has influenced each of us in different ways, trying to capture at least a taste of the thick sound of what Beefheart characterized as "musical painting."
Trombone/Band Leader– Lawrence Jarach
Baritone Sax- Ward Abronski
Dirty Tuba- Wiley Evans
Drums- Bruce Slesinger
Guitar- Mike McKevitt
Vocals/Accordion- Suzanne Ramsey
Members of this band have been playing live music in San Francisco for many years : Extra Action Marching Band, Polkacide, Kitten on the Keys, Flipper, Cyclecide, The Dead Kennedys, Sopwith Camel
Links :
https://youtu.be/RutwLasOwAw ( I'm Gonna Booglarize You Baby)
Soundcloud Link https://soundcloud.com/pachucocadaversf
Facebook Link https://www.facebook.com/pachuco.cadaver.12
https://twitter.com/PachucoCadaver1
Some Quotes About Don Van Vliet- Captain Beefheart –
Mike Barnes referred to him as an "iconic counterculture hero" who, with the Magic Band, "..went on to stake out startling new possibilities for rock music".  Lester Bangs cited Beefheart as "…one of the four or five unqualified geniuses to rise from the hothouses of American music in the Sixties",  while John Harris of  The Guardian praised the music's "…pulses with energy and ideas, the strange way the spluttering instruments meld together". A  Rolling Stone biography described his work as "a sort of modern  chamber music for [a] rock band, since he plans every note and teaches the band their parts by ear. Because it breaks so many of rock's conventions at once, Beefheart's music has always been more influential than popular.