The Nunnery hosts a riveting free improvisation session with sax and electronics
September 28, 2014 5:30 PM MST
Stephen Smoliar  SF Classical Music Examiner
http://www.examiner.com/article/the-nunnery-hosts-a-riveting-free-improvisation-session-with-sax-and-electronics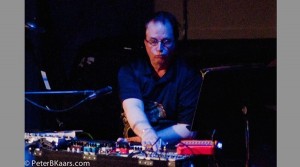 Photo by Peter B Kaars, courtesy of http://www.peterbkaars.com/
This afternoon I decided to pay my first visit to The Nunnery. As I have previously observed, this is Tom Nunn's research laboratory space. It is basically a converted garage (not at all conspicuous in its neighborhood setting in the Mission) that now provides an impressive exhibit of Nunn's Skatch Boxes, flat surfaces (that admit of being hung on the wall like paintings), each of which has a unique set of small objects of different materials and textures fastened. The resulting instrument is played by another object capable of getting these pieces to vibrate. (When I saw Nunn in performance in December of 2012, he was playing his Skatch Box with a pair of plastic knives.)
Nunn also uses this space to invite other musicians for free improvisation gigs. This afternoon I chose to stay only for the first set, since it provided more than enough for my head to hold until I could get back to my computer. The performance was by the duo of tenor saxophonist Josh Allen and Philip Everett. Everett's contribution involved far too many sources to be reduced to a single word or phrase. I came away with a clear sense that his original training was in percussion, primarily in the basis of his drum work. However, what was most impressive is that he ruled over a vast table of analog electronic gear that was decidedly the result of his own "home brew" design and implementation. I got the impression that he could capture the sounds of Allen's sax work (as well as his own plucking at an autoharp with the "auto" mechanism removed). However, his circuitry also made extensive use of feedback, meaning that any "stimulus" sound could serve to trigger a vast panoply of "response" sounds, some of which would involve ongoing patterns until the controls were changed.
The real delight, however, was watching Everett manage those controls. One could tell that all of the bodily instincts he had cultivated for his percussion work were now put into play to manage his vast array of knobs and switches. Thus, every phrase that emerged from his equipment was the result of some specific gestural pattern; and it was through his thoroughly internalized language of gestures that he could jam so compellingly with Allen.
For his, part Allen seemed well aware of what Everett could do. Some of his work would involve experimenting with rather brief motifs, possibly recognizing that they would serve as triggers for Everett's circuits. However, he could also open up into far more extended passages. Most impressive was his ability to alternate rapidly among different registers, thus creating the sense that he was unfolding harmonic progressions even without the benefit of multiphonics. (This is not to dismiss the fact that he could also do some very impressive things with changing timbres of individual tones.)
The entire set probably ran about 40 minutes. The first half was a single uninterrupted improvisation. This was followed by two shorter improvised pieces. Each was its own unique adventure, providing one of the best alternatives to a sports-heavy Sunday that I have encountered in quite some time.