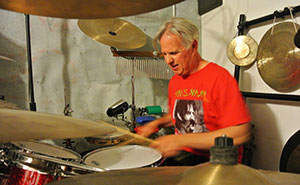 Anthony Flores:  Drums, percussion, and handmade noisy things.
Anthony started playing at a very early age, banging on his mother's pots and pans with wood stirring spoons. He got his first drum set in his teens.
Mostly a self taught musician, Anthony played in various garage bands in the 1960's, and after moving to San Francisco in the 70's, performed and recorded with a number of bands in multiple genres.  His influences are, Elvin Jones, Art Blakey,Ginger Baker, John Bonham, Mitch Mitchell, and Sun Ra.