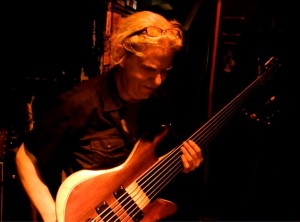 Ray Schaeffer:  Bass guitars and effects, audio engineering, roadie, Instrument repair, Chief wire thug.

After studying music theory and upright bass in school, Ray worked in a diverse array of musical situations from full classical orchestra to Top 40 night club bands, folk rock bands, and experimental rock/improv groups going back to the early 70's.
Current projects are Tri-Cornered Tent Show, Lords of Outland, Recycling Club featuring Joshua Allen on tenor sax and curating live sound duties at the yearly Outsound Music festival.
Ray recorded, mixed and mastered all the music for Tri-Cornered Tent Show. 2 CD's for the Abstractions and most of the music for Lords Of Outland (since about 2005), as well as assisting Philip Everett with  construction and development of the FX Coffin/electronics setup.