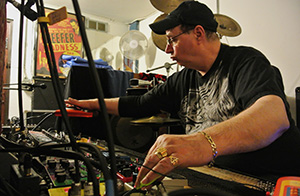 Philip Everett: Electric Lapharp and effects, percussion, and clarinet
Philip began music study at the age of 9 on clarinet, quickly moving to drums,  Bartok, Debussy, and Gershwin, as well as New Orleans style 2nd line marches.
Armed with an array of teachings, Philip became the leader of various groups over the years:  His first group Ice, in 1967, was a psychedelic R & B ensemble that performed music in the style of Otis Redding and Jimi Hendrix.  The band toured the Midwest in a beat up, old, black city bus,  and opened for bands like Canned Heat and Sweetwater, until the group members went their separate ways in 1972, some of them going on to play with Peter Frampton, Tommy Bolin, Cannonball Adderly, Luther Tucker, members of the Eagles, and for other lesser known artists in the one minute of fame category.
Undaunted by the end of his first group, Philip pushed ahead and created Arrival in 1974. This group was significantly different then his early psychedelic R & B days. This progressive rock band featured the electronics of David Toby & bassist Ray Schaeffer, with elements of hard rock, folk, world music, electronic improvisation & composition. They found themselves almost signed to several major record labels but the music was too difficult for the music corporations to pigeonhole.
In 1985 he formed Sound Oasis, a six piece jazz group which performed at the Vintage Inn in West Oakland for a number of years. After numerous other projects, Philip eventually started making a living with various country & western bands, performing at honky-tonk bar rooms up & down the delta between Richmond & Stockton California until 2000. Although he was making a living, his calling was not being fulfilled, and bolstered by his experience from his earlier development, he concluded that discovering new music was true to his heart. He decided to play only creative music in the direction of sonic exploration.  His current projects include Tri-Cornered Tent Show, an improvisation group that explores music inspired by H.P. Lovecraft, psychedelic blues and murder ballads, various group concepts with saxophonists Rent Romus and Joshua Allen and a solo electronics project, Skullcrusher.